January 18, 2022 January 18, 2022 Paul Butcher https://plus.google.com/116893384630351018637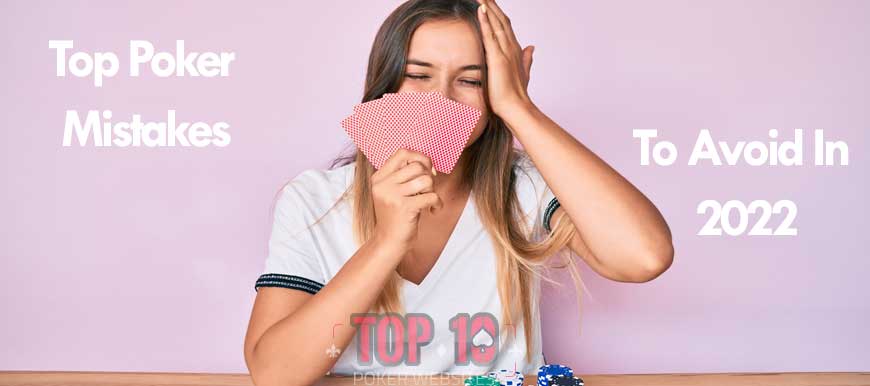 All online poker players, regardless of their skill level and experience, are not immune to making mistakes, and you are no exception.
Three key mistakes that online poker players should avoid in 2022
Whether you're just starting out, playing as an amateur, or whether you're already a seasoned pro, you must prevent yourself from falling in to these three coming online poker traps.
#1 Not Participating in Big Online Festivals
Major online festivals are your ticket towards life-changing victories. Imagine turning your tiny investment into massive winnings at the comfort of your own home – you can make that happen by taking part in huge online festivals. The top operators usually run great value tournaments featuring huge guarantees in relation to their entry fees, and that's something you shouldn't miss.
PokerStars hosts four major online tournament series each year, namely, the MicroMillions, Spring Championship of Online Poker (SCOOP), World Championship of Online Poker (WCOOP) and Turbo Series.
PokerStars' closest rival GGPoker doesn't disappoint when it comes to running massive festivals. Watch out for the World Series of Poker (WSOP) online events which will once again run on the site this year, plus the operator will also be hosting its own major tournaments awarding millions of dollars in guarantees.
#2 Refusing to Study Outside the Virtual Felts
While it is true that you gain experience by putting your skills to the test, you can also improve your gameplay by studying different topics away from the poker tables.
Achieving success in poker means continuing to learn, using different methods. Playing consistently isn't enough – you also need to gain new knowledge by reviewing and analyzing your hand histories, watching videos, joining poker training sites, or discussing hands with fellow players. We can bet doing so will sharpen your skills and improve your win rate at online poker.
#3 Not Being Mentally Prepared
If you want to be a successful online poker player, you must work on your mental strength. Poker involves a lot of tilt and downswings and if you're not capable of dealing with them, you won't make it big in the game. You must prepare yourself mentally and learn to control tilt. Otherwise, you'll end up losing the game and destroying your bankroll.